CAN YOU EXPLAIN YOUR RATING SCALE?
---
We rate every item up for auction from 1-6 stars located at the top right of the item page. This will indicate the condition of the item.
6 STARS - BRAND NEW RETAIL PACKAGING 

(Exactly how it will look like if you bought the item in a retail store) 
5 STARS - NEW - Open/inspected box. Distressed OR missing packaging

(This mainly applies to electronics where there is a sticker seal)
A) Item Contents are BRAND NEW and shows no signs of use. Box/Package has been previously opened by a customer or opened and inspected by our staff (We inspect or test anything we feel is necessary to insure there is no damage, all parts are included and that the item works. We will state whether we inspected or tested it personally)
B) Item is NEW but retail packaging is distressed due to shipping, or item is missing its packaging/tags. (see photos of package)
4 STARS - NEW WITH MINOR ISSUE OR STORE RETURN OR STORE DISPLAY 

Please see condition notes for further information. 
Item has been inspected and or tested. 
3 STARS - MANUFACTURER REFURBISHED
Please see condition notes for further information.
2 STARS - USED - Condition will vary. See condition notes

We will include additional photos and condition notes.
1 STAR - AS-IS 

A) Item has been tested and is defective. It is not in working condition or we are unable to get it to work
B) Item is being sold AS-IS because we are unable to test the item fully
HOW DO I BID?
---
DO YOU HAVE RESERVES ON YOUR ITEMS?
There are NO reserves! All our auctions start at with an opening bid of $1 when listed and sell for the highest bid amount on auction night. 
---
CAN I COME PREVIEW AN ITEM BEFORE BIDDING?
We encourage all our bidders if they have time to spare, to come to our retail location within our business hours and preview anything you are interested in bidding on.
---
WHAT DOES PROXY BIDDING MEAN?
Proxy Bid means: The max amount your willing to pay/bid for the item (this can be updated and increased at anytime)
Every item on our weekly auctions start at $1 with no reserves
You will now decide to input a MAX PROXY BID. Ex: $40, the system will automatically keep you $1 higher than the previous bidder as long as your max bid is higher than theirs.
Your proxy bid is kept SECRET from everyone, only you can see this amount.
The main advantage to proxy bidding is if you are unable to watch the auction because you need to be away from the computer or phone, you can still win the item.
CAN YOU GIVE ME AN EXAMPLE OF THE BIDDING PROCESS?
In this example 2 people will be bidding on a Watch
"Jacob86" has placed his secret proxy bid and is currently winning the watch at $10.
You decide that you would love to have this watch and bid $15
Now 2 things will happen...
Option A: You will now currently be winning that item for $11 because you have outbid "Jacob86" max bid.
Option B: The current bid jumps to $16, that means that "Jacob86" bid is still higher than your $15 and you must bid higher until you take the bidding lead and pass "Jacob86" secret bid.
Now you decide to increase your bid to $25. The bid amount has just updated to $21 and you are now winning the watch. This means you have outbid "Jacob86" and surpassed his proxy bid amount which was obviously $20. You will know this because your bid will always be $1 higher than the previous bidder once you have outbid their proxy bid.
This process will continue until the auction time ends on that item and someone has won the watch.
What if "Jacob86" wants to bid the same amount as me? Whoever placed the max bid of $20 first will be winning the item for $20 as our system does not allow duplicate bid amounts.
---
HOW DO I KNOW IF I AM WINNING AN ITEM?
When you bid on an item, the thumbnail will either update to a faint red or green.
RED: Indicates you are losing the bid amount and must bid higher.
GREEN: Indicates you have taken the lead in the bidding and are currently winning.
These colours will update in real time on a 5 second auto refresh.
You can view all the items you are bidding on in the auction and its current status in your BID LOUNGE located on the left side of the page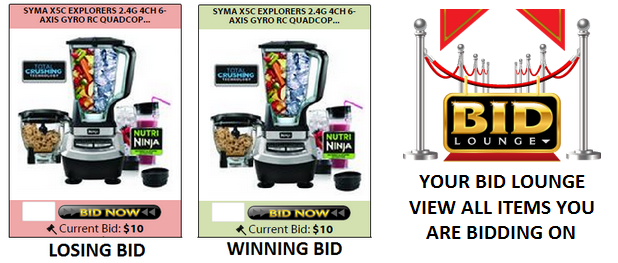 WHERE CAN I SEE THE BID HISTORY OF AN ITEM?
The bid history will be located in the auction item page right below the current bid amount and who is the highest bidder.
---
WHAT ELSE DO I NEED TO KNOW?
When there is 20 minutes remaining on an item, the auction timer will turn a BOLD RED
In order to prevent auction sniping and unfair bidding practices, the countdown time will reset to 2 minutes every time a bid is placed within the last 2 minutes of the auction ending. (This is to give bidders another chance to bid if they are still debating). PLEASE NOTE THAT IF A BID IS PLACED ON AN ITEM WITH LESS THAN 5 SECONDS REMAINING - THE ITEM MAY STILL COUNT DOWN AND SHOW "CLOSED" EVEN THOUGH IT WAS BUMPED BACK UP TO 2 MINUTES REMAINING.  PLEASE KEEP IN MIND TO REFRESH YOUR PAGE WHEN AN ITEM YOU'RE BIDDING ON SAYS CLOSED TO ENSURE THERE WERE NO BIDS PLACED WITH <5 SECONDS REMAINING!
In the event of a Tie bid (2 bidders enter the same amount, it is always awarded to the first person who placed the bid.) If you enter a bid of $10 and the current high bid changes to $10 but your thumbnail is red, that means someone else entered a $10 bid before you and will be recognized as the high bidder.