CAN YOU EXPLAIN YOUR RATING SCALE?
---
We rate every item up for auction from 1-6 stars located at the top right of the item page. This will indicate the condition of the item.
6 STARS - BRAND NEW RETAIL PACKAGING 

(Exactly how it will look like if you bought the item in a retail store) 
5 STARS - NEW - Open/inspected box. Distressed OR missing packaging

(This mainly applies to electronics where there is a sticker seal)
A) Item Contents are BRAND NEW and shows no signs of use. Box/Package has been previously opened by a customer or opened and inspected by our staff (We inspect or test anything we feel is necessary to insure there is no damage, all parts are included and that the item works. We will state whether we inspected or tested it personally)
B) Item is NEW but retail packaging is distressed due to shipping, or item is missing its packaging/tags. (see photos of package)
4 STARS - NEW WITH MINOR ISSUE OR STORE RETURN OR STORE DISPLAY 

Please see condition notes for further information. 
Item has been inspected and or tested. 
3 STARS - MANUFACTURER REFURBISHED
Please see condition notes for further information.
2 STARS - USED - Condition will vary. See condition notes

We will include additional photos and condition notes.
1 STAR - AS-IS 

A) Item has been tested and is defective. It is not in working condition or we are unable to get it to work
B) Item is being sold AS-IS because we are unable to test the item fully
HOW DO I BID?
---
DO YOU HAVE RESERVES ON YOUR ITEMS?
Some items may have reserves! All our auctions start at with an opening bid when listed and sell for the highest bid amount on auction night. 
---
CAN I COME PREVIEW AN ITEM BEFORE BIDDING?
We encourage all our bidders if they have time to spare, to come to our retail location within our business hours and preview anything you are interested in bidding on.
---
HOW DO I KNOW IF I AM WINNING AN ITEM?
When you bid on an item, the thumbnail will either update to a faint red or green.
RED: Indicates you are losing the bid amount and must bid higher.
GREEN: Indicates you have taken the lead in the bidding and are currently winning.
These colors will update in real time on a 5 second auto refresh.
You can view all the items you are bidding on in the auction and its current status in your BID LOUNGE located on the left side of the page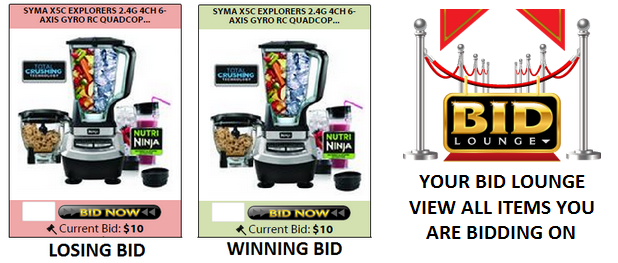 WHERE CAN I SEE THE BID HISTORY OF AN ITEM?
The bid history will be located in the auction item page right below the current bid amount and who is the highest bidder.
---
WHAT ELSE DO I NEED TO KNOW?
When there is 20 minutes remaining on an item, the auction timer will turn a BOLD RED
In order to prevent auction sniping and unfair bidding practices, the countdown time will reset to 2 minutes every time a bid is placed within the last 2 minutes of the auction ending. (This is to give bidders another chance to bid if they are still debating). PLEASE NOTE THAT IF A BID IS PLACED ON AN ITEM WITH LESS THAN 5 SECONDS REMAINING - THE ITEM MAY STILL COUNT DOWN AND SHOW "CLOSED" EVEN THOUGH IT WAS BUMPED BACK UP TO 2 MINUTES REMAINING.  PLEASE KEEP IN MIND TO REFRESH YOUR PAGE WHEN AN ITEM YOU'RE BIDDING ON SAYS CLOSED TO ENSURE THERE WERE NO BIDS PLACED WITH <5 SECONDS REMAINING!
In the event of a Tie bid (2 bidders enter the same amount, it is always awarded to the first person who placed the bid.) If you enter a bid of $10 and the current high bid changes to $10 but your thumbnail is red, that means someone else entered a $10 bid before you and will be recognized as the high bidder.
HOW DO I PAY?
-----------------------------------------------------------------------------------------------------------------
WHEN IS PAYMENT DUE?
Payment is due by the deadline indicated in our banner or emails for that auction. 
4 days after the auction ends. The Sunday of that week by 4pm
THERE ARE NO EXCEPTIONS
---
You cannot pick and choose which items to pay for when you come for your won auction items. You must pay for your ENTIRE order
WHAT IF I DO NOT PAY FOR MY ORDER AND PICK UP ON TIME?
If an invoice is left unpaid and not picked up by the deadline the account will automatically be temporarily suspended and the items re-listed. The bidder will then be required to pay the 15% restocking fee off the final invoice amount that was left unpaid in order to re-instate their account. Once the account has been suspended the bidder will no longer be allowed to bid, purchase, or pick-up any items until this restocking fee is paid.
---
HOW DO I PAY (METHODS OF PAYMENT)?
1. This can be done in person at our retail location. 
We accept Cash, Debit and Credit (Mastercard, Visa and American Express). E-transfers are also accepted but they need to be cleared before any items can leave the location.
2. We no longer accept online or over the phone payments.
Please contact us via site message or phone to inform us if you need to do an E-transfer
---
IS THERE ANY OTHER CHARGES WHEN I PAY FOR MY ITEMS?
ABSOLUTELY NOT! Bidding is completely FREE! No scams or buying bids, what you win your item for is what you pay + the standard 10% buyers premium + HST.
All items up for auction are subject to the 10% buyers premium being added to the winning bid amount which constitutes the final purchase price.
Example: $40 winning bid. + 10% premium = $4  ($44 final purchase price + 13% HST) = $49.72
WHAT IF I WOULD LIKE TO REFUSE AN ITEM BECAUSE I CHANGED MY MIND?
Most auctions do not accommodate this request but we allow refusal of a won item if a restocking fee is paid off the total bid amount which is the winning bid amount (+ the 10% buyers premium). This will give you the total bid amount. 15% of that amount is our restocking fee.
Example: 
Won item for $50
10% Buyers Premium is $5
Total Bid amount will be $55
15% of $55 would be your restocking fee for that one item $8.25
HOW DO I PICK-UP MY ITEMS?
---
45 Brisbane Road
Unit #19
M3J2K1
WHAT IF I CAN'T MAKE IT WITHIN THE PICK-UP TIMEFRAME?
There are no exceptions to the 4 days pick-up after auction unless an emergency has occurred and a time extension is granted by one of our staff. 
IF YOU CAN'T PICK UP WITHIN OUR 4 DAY TIME FRAME DO NOT BID!
---
DO I HAVE TO SCHEDULE A PICK-UP BEFORE I COME?
While scheduling a pick-up is not mandatory, we highly recommend it as this allows us to try and prepare your order ahead of time. This would minimize your wait time when you come to our store to pick-up. If you are interested in scheduling a pick-up time, it can be done by phoning us for fastest response or an internal site message.
---
WHAT DO I NEED WHEN I COME PICK-UP?
All new members are required to show Government-issued ID when picking up an order. This is done to protect us and the bidders by ensuring the items are picked up by their rightful winner. There are NO exceptions!
---
CAN SOMEONE ELSE PICK-UP MY ORDER?
If you would like someone else to pick up your order, please log into your account and use the internal messaging system and provide the full name of the person who will be picking your order. This person will be required to present a government-issued ID on arrival.
WHAT IS YOUR WARRANTY/RETURN POLICY?
-----------------------------------------------------------------------------------------------------------------
WE DO NOT DO BUYER REMORSE RETURNS, WE OFFER A 14 DAY WARRANTY ON ANY ITEMS THAT DO NOT LIVE UP TO OUR LISTING (FULL MONEY BACK)
We stand by the items we sell and because of that we supply an in-house warranty on everything sold, unless stated AS-IS. 
Warranty applies for...
Any items that have a malfunction from time of purchase, was damaged and not described, missing parts and not indicated or was listed incorrectly.
To be granted a return we must be contacted within 14 days explaining the issue.
This can be done by contacting us via internal message (top right of the screen *green button*)
Once a return has been approved, the item will be replaced if a duplicate is available, we will offer a negotiated discount if the bidder would like to still keep the item or process a full refund. A bidder can't deny a replacement if one is available.
Any physical damage caused by improper handling or use by the customer will result in automatic refusal for a refund and will void our 14 day warranty.
Any malfunctions caused by improper use by the customer will also be denied.
We will also deny a return if the bidder did not properly take the time to view and read the listing correctly. It is the bidders sole responsibility to fully read each listing and look at all photos as we put a lot of time into trying to be as accurate in our inspection and listing process. If a listing indicated an issue in the condition notes or included photos of the issue the return will be refused. 
We do NOT accept returns based on buyers remorse (You do not like the item, wasn't what you needed, clothing/shoes didn't fit or changed your mind)
Once the warranty time period has exceeded no refunds or exchanges will be granted regardless of the issue or situation. There are NO exceptions. Once the warranty period has fully passed, we no longer hold anymore responsibility for the items sold.
Please remember we are only human and deal with a large volume of products that need to be listed within a limited time frame. We appreciate your understanding if we miss an issue during the listing/inspecting process. If this does occur, we will resolve it for you!